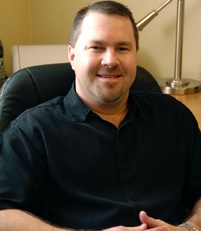 Eric Anderson, MSW, LICSW is a Licensed Clinical Social Worker in the State of Washington, specializing in adult, child and adolescent counseling.

Eric graduated with a Bachelor of Arts degree in psychology from Southern California College in Costa Mesa, CA . He received his Masters of Social Work degree from the University of Southern California (USC), Los Angeles, CA, with a specialty concentration in Mental Health.

Eric specializes in the treatment of severely and emotionally disturbed children and adolescents. Eric has worked in a variety of settings including residential treatment facilities, group homes, and family service agencies. He also has experience with inpatient and outpatient (children & adults) mental health. Eric has worked with both the Public Child Welfare and County Mental Health Systems and has more than 15 years of experience in the social services field.

In addition to his private practice, Eric also works part-time for the Department of Social & Health Services, Children's Administration as a child welfare service worker and provides training and consultation in the areas of mental health and child welfare related issues.